Hey, everybody! I put almost an hour on the aircraft yesterday from 30 minutes before sunrise to almost 30 minutes after sunset.
In previous night flights, I have noticed that shutter speeds slower than 0.5 seconds typically do not come out sharp because of what some people call the "DJI Dance." Here's an example shot of a 5-second exposure ...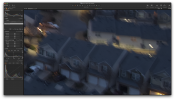 My solution:
15 minutes after sunset: Takeoff and get into position. Take a burst of at least three shots at shutter priority at 1/2 second with exposure compensation at -1/3 EV.
For each subsequent burst of shots, slow shutter speed by 2/3 EV. Go for as long as possible.
Select the sharpest shot to use as the base layer and the best long exposure shot you are able. For the base layer, focus on the entire overall image; and for the long exposure shot, focus on the moving parts.
Combine shots in Affinity Photo or Photoshop: Place long exposure shot over base layer with layer mask that is initially all transparency. Brush in your streaks of light because you know where the road is.
Final result: