Joined

Apr 23, 2015
Messages

105
Reaction score

50
Age

45
Disclaimer: I have no association with
Smart Power Charge
. I am simply posting this for forum knowledge.
Shortly after purchasing my
DJI inspire 1
, I realized that I was definitely going to need some form of a charger beyond what was provided with the stock unit. Having nine batteries (1xTB47 and 8xTB48), there was no way that a single stock charger would do the trick. I am entertained the idea of using multiple DJI chargers, but upon further investigation, that idea didn't seem realistic.
I don't exactly remember where I heard about the
Smart Power Charge,
but I somehow stumbled upon their website. The company offers a variety of chargers for the entire line of DJI line of quadcopters. Their model for the DJI Inspire 1 is called the
SPC4500
. It is capable of charging four (4) batteries simultaneously as well as two (2) remote controls (RC), and two (2) USB devises. AMAZING! It was just what I was looking for.
The SPC4500 comes well packaged in a sturdy cardboard box. There is no doubt what's in it when you see the packaging. It has quality printed right on the box. They used quality vector based images that give a clean look. Even before opening the product, the box screams "I will do your batteries right!"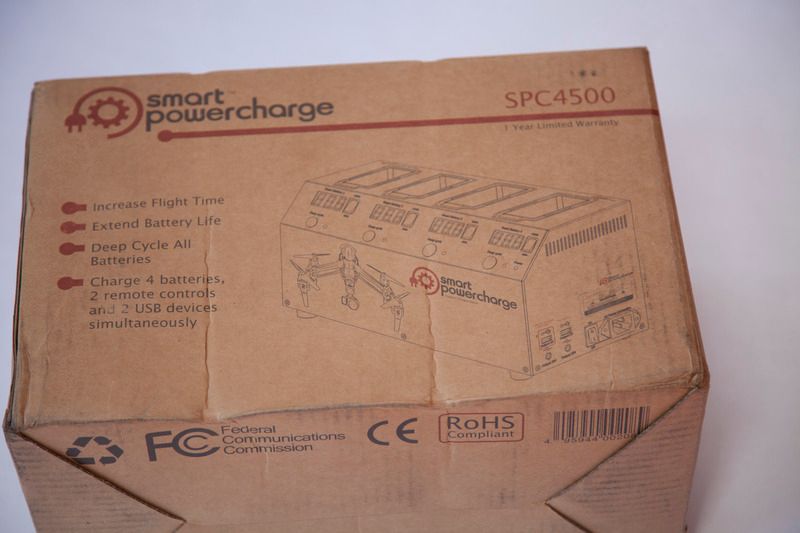 The SPC4500 is packed well inside. Both sides are supported by closed cell foam similar to the quality found in high-end cases. No cheap foam here. The SPC4500 is also enclosed within a dust cover (i.e. clear plastic bag).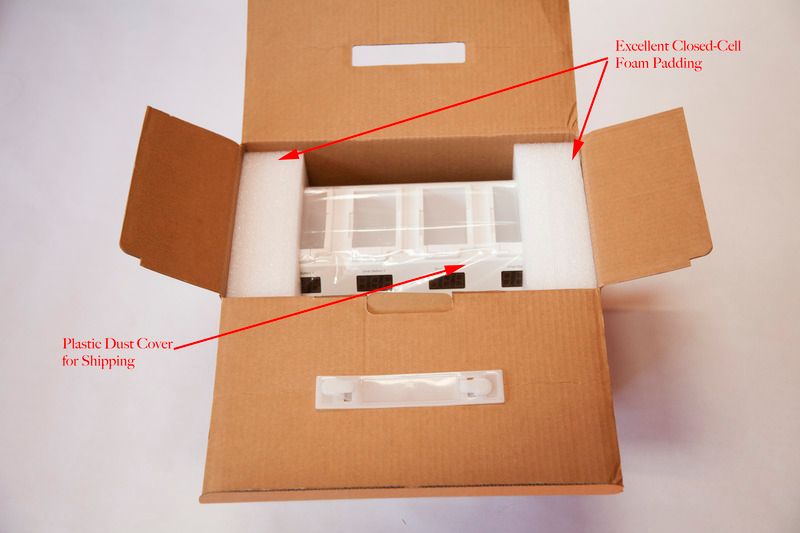 This unit is solid! It weighs about 8 lbs. It is made of laser cut steel that is finished in a baked enamel. Look at the detail of the vents for the cooling fans! There are two vents. One per side. There is one cooling fan found on the right side (notice the two screws in the picture below).
The logos/decals on the unit are NOT stickers. They are actually part of the baked enamel finish. The only stickers on the unit are the serial number, the "Made in Taiwan" sticker and the quality control (QC) sticker. All the screws holding the unit together are allen head machine screws. This thing is QUALITY!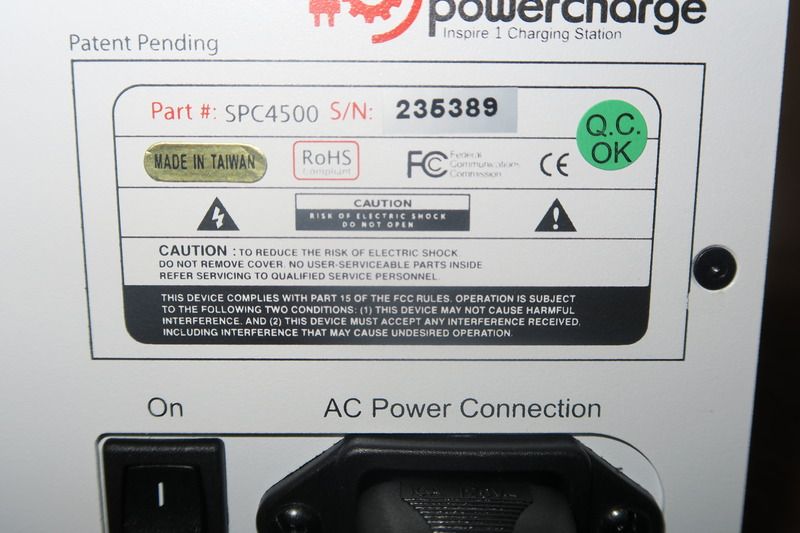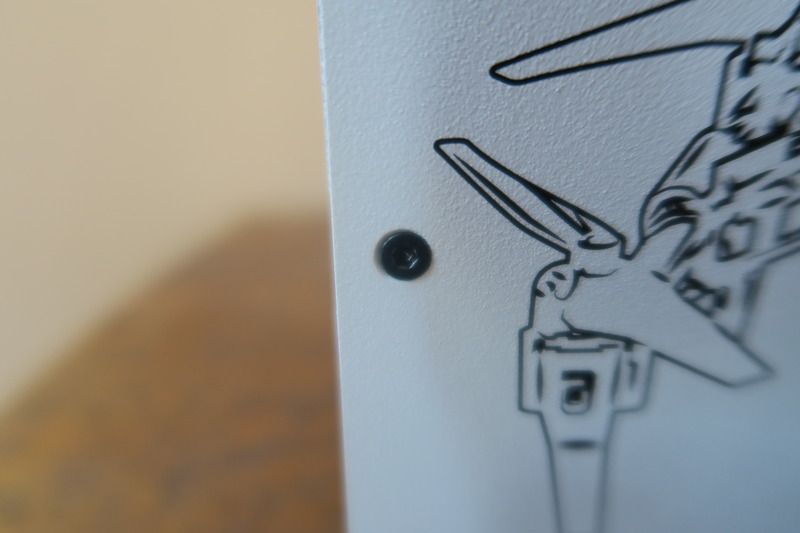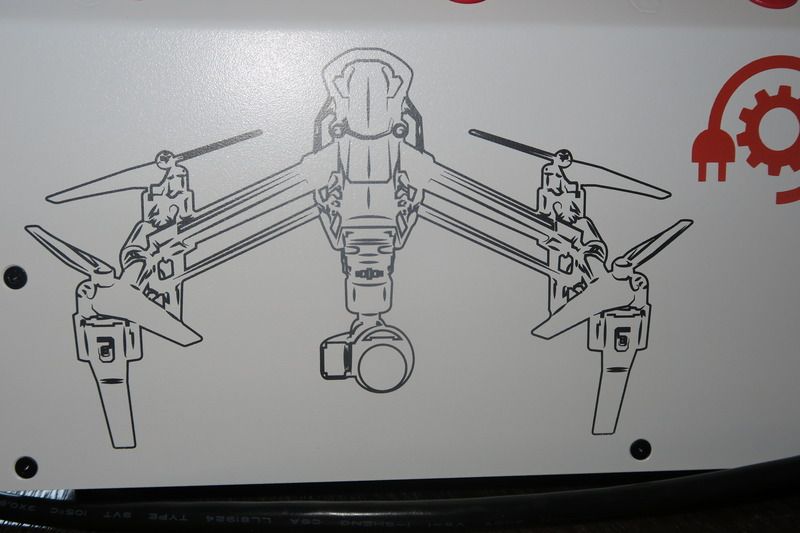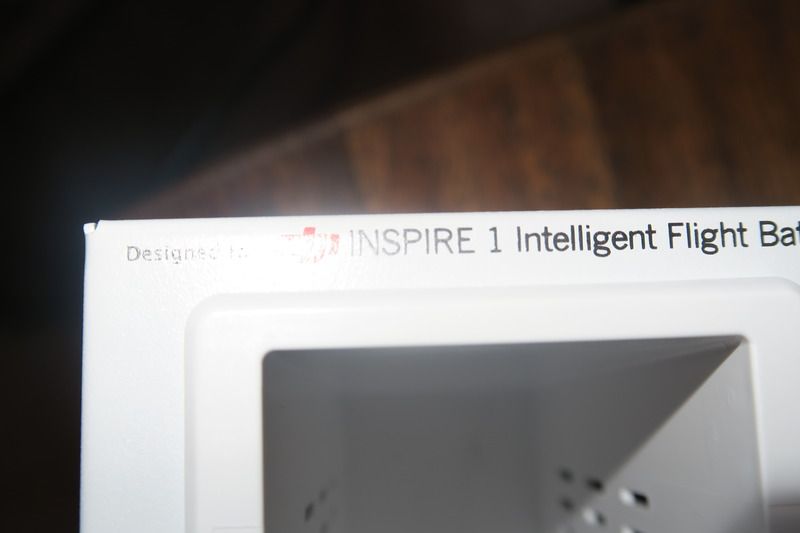 Each unit includes the 120V AC power cord, a small instruction manual, and two (2) 26V charging cables for the RC's.
Each of the four (4) slots has its own large, very visible, blue LED panel that indicates battery voltage. Each one is labeled "Smart Battery X." Below the large LED, each battery slot has a red "Deep Cycle" button and a small green LED that illuminates when the charging slot is ready to charge upon turning on the unit. The "deep cycle" function must be initiated by depressing the large red button. Deep cycling is to be done every 10 battery charges per the
DJI manual
page 22.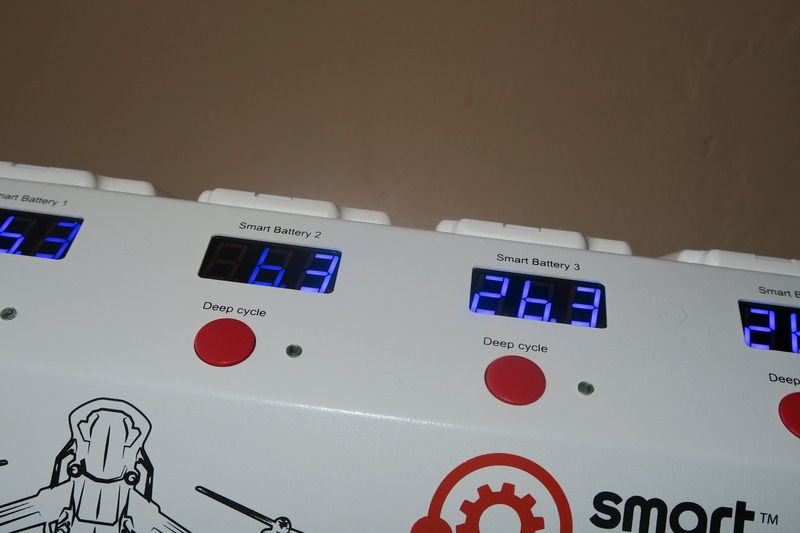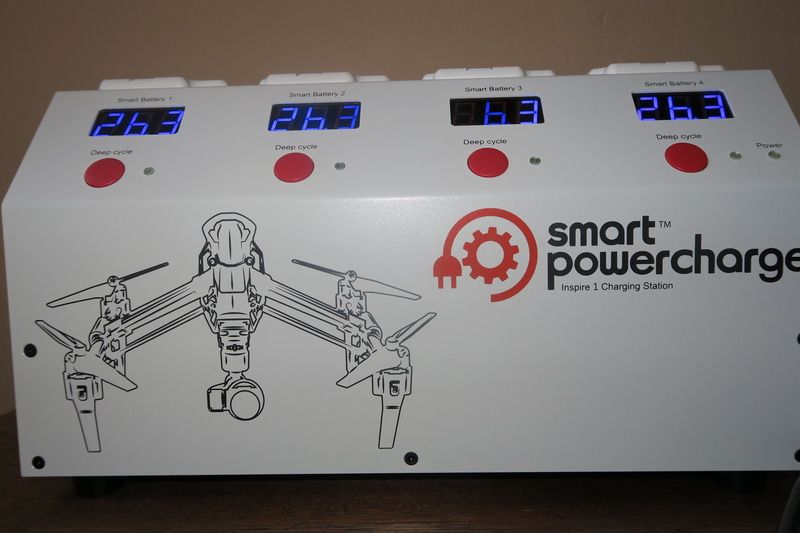 [/URL]
Each battery charging slot has a small plastic dust cover (just like the one on the factory DJI charger) to cover the charging terminals. It is a bit difficulty to get it out at first, but once you've got it figured out, its straight forward.
I literally CANNOT say enough about this charger. I would gladly pay the price again ($499.00 at the time of this review). Some lucky people got it at $399.00 during the "pre-order" phase. It has made my life so much easier. I will be posting a video review shortly. It is in production/editing now.
BTW, I use mine at home and a shoots with a Honda EU2000i generator. Works like a dream!
If you order one of these, please tell Rich I sent you. Again, I get nothing out of it. Just want him to know. He and his staff are top notch.
If you have any questions, please let me know.
Last edited: