Joined

Mar 10, 2018
Messages

35
Reaction score

17
Age

61
DJI
Inspire 2
with X7. Mint Condition. Original cost over £13,500.
This is the actual aircraft in question.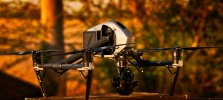 I am recovering from a serious injury which I sustained back in December so I am looking to see if there is any interest in my
Inspire 2
kit. I am based in the UK so really only looking to sell in UK. Not looking to break up the bundle, so if you are interested get in touch. I also have the TB50 charging station which is only about 4 months old so we can talk about that as well if you are interested, it is a phenomenal piece of kit.
I am selling my well cared for DJI
Inspire 2
complete as a complete professional kit. The aircraft has been used professionaly as I am a PfCO holder and that was part of my business. It has only been flown in fair weather and has had no hard knocks or landings. All of the equipment has been very well looked after and is as new.
Inspire 2
aircraft, C-DNG & ProRes Licenses installed (5.2K RAW video)
4 Carbon fibre folding Props.
DJI X7 Camera.
DJI 24mm Carbon Fiber Lens.
DJI 50mm Carbon Fiber Lens .
CineSSD
480GB.
CineSSD
station and USB cable.
Cendence Controller.
Original Controller (Handy for 2 man operations).
Crystal Sky 7.85inch + Cendence Mount.
Tablet Holder for Cendence Remote.
Directional Patch Antenna.
4 sets of TB50 batteries (8 batteries in total) + Original Charger.
5 WB37 batteries (for Cendence and Crystal Sky) + Charger.
GPS Module for Dynamic Home Point.
GPC Millitary Grade Case for
I2
(has been modified to accomodate the folding carbon props.
Aircraft is fitted with the
inspire 2
gimbal protection kit.
Set of 6 ND Filters.
Lowpro Backpack for
I2
Tripod mount for
I2
(if you ever want to use it as a ground based movie camera.
Small tool box with spare bolts, nuts washers and ancilleries.
The kit comes with Several additional carbon props and some additional original propellers.
It should be noted that the TB50 batteries have about 50 cycles on them. More recently I have moved to a DJI TB50 charging station which is a phenomenal piece of kit and does a great job of looking after the batteries. I can still comfortably get 15 to 18 minutes of flight time with 20% low battery warning. You might want to consider the Battery Station as an additional option although that is not included in this sale.
I am looking for offers around £7000 + shipping