This is a new and never used Reach M+ UAV Mapping kit. Emlid claims that it has the same accuracy as the RS2 kit in areas where there are clear lines of site to the sky. You likely know about these kits if you are reading this add. The Emlid forums are a lot like the Inspire forums in that they are very active and full of excellent information and guidance.
Emlid is out of stock on this kits until some time in November. Retail price is $1,124 plus what ever taxes your retailer has to charge. I would be fine with getting $860 and I will pay for trackable shipping from my home in Canada to where ever you are in Canada or the USA. If you are from another country, we will have to discuss shipping.
Feel free to ask questions but I prefer any negotiations to be via private messages if that works for you. Please hurry up and buy it so I don't mount it on one of my drones! I already have this equipment and it would just be lazy of me to keep this kit.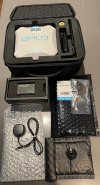 Last edited: