Hey doods!
I had an interesting flight last week. It's funny what a house of cards this job is. I forget ONE thing!
So as some of you may know, I fly a construction progress job every week. At the moment I have 2 clients that I fly every other week. I stagger the jobs, so I end up flying every week. Both of these clients are in WiFi saturation zones. I use a combination of understanding and scanning the WiFi environment to find open channels. Often times I find zero of 32 channels open. So then it becomes a matter of choosing the "least closed" channel, if that makes sense. To illustrate my point, here are some screenshots of the histogram for the jobsite in question: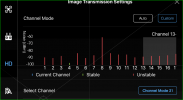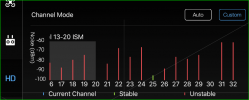 There are fleeting moments when channels are Stable. But for the most part channels are Unstable 95% of the time.
For this particular job, I have always selected either channel 12 or occasionally channel 11. The problem is that when running the analysis, I can't have those channels selected because the bar becomes blue.

Green = Stable and Red = Unstable. So I have to switch to another channel if I want to see what channel 12 is doing. I do this every week before I fly without fail.
Last week's job started like any other. I ran the WiFi analysis and decided on channel 12. Unfortunately, for the first time since I've been flying drones, I FORGOT to switch to channel 12. Instead, I was on Channel 21.
Right away I noticed that I was getting more video interference than usual. While greater than normal, I was still getting video feed. So I didn't think too much about it. I finished my first POI mission without incident. The same can't be said for the strafe "top down" shot. 3/4 through the mission my Inspire 1 froze in the sky.
For clarification, the software I use becomes the flight controller. So if signal degrades too much, the software will disconnect and then I have to fly manually back to the first waypoint and then start the mission over. So when the Inspire 1 stopped in the sky, I wasn't overly concerned...until I was. I "disconnected" the mission and move the joy sticks. Nothing. I had an FPV image on my iPad. And I could tilt the camera up and down. I could also stop and start the recording. But I couldn't move the drone. With about 55% battery left, she sat there hovering in the sky.
Another thing that was completely out of character for me was to not monitor the signal strength. Every time I fly in these WiFi hotspots I check signal strength every couple seconds. I don't know what was on my mind that day, but I didn't check the signal strength one time. Crazy.
As you can imagine, I sort of started to panic, but not really. I knew with 55% battery I had a few minutes to figure things out. I moved closer to the drone's location to no avail. It was odd that I could move the camera and the image was stable, but I could not ascend or descend or yaw or move forward or sideways or anything. So I decided to reboot the controller. The controller reconnected with the Inspire 1 exactly as it had before. So, for what I believe is the first time in my entire career, I hit the RTH button. This worked! The Inspire 1 started making her way home. Once close enough, I threw her in ATTI mode and took over the landing.
But what had gone wrong?
As it turns out I had forgotten to set the controller to channel 12. She was on channel 21, which was as unstable as the remaining 30 channels (not including channel 12). This is a first for me. You can bet that will never happen again.
In retrospect, I wonder if putting her in ATTI mode in the first place might have helped? I kind of doubt it. I see no reason why, but it was just something I didn't think to try in the throws of near panic.
I guess my point is that we have a very fragile Tx/Rx relationship with our drones - especially the older ones. DJI's newest WiFi technology seems to be much, much more rock solid than these legacy models. But I like the Inspire 1 and she gets the job done every week, so I will continue to use her. In contrast, the Tx/Rx on my business partner's M300 is FAR more stable.
Talk about a bit of a pucker factor...
Discuss.
D
Last edited: