My work drone is the
Inspire 2
with the X5S. Im taking off and landing on boats as most of my work is boating related. The reason I fly the Inspire is so I can shoot in ProRes 422 HQ - so with the release of the Mavic 3 Cine, I thought wow, what a great opportunity to loosen my load, I can get the same quality as the X5S in a smaller package and catching the mavic 3 is a lot easier than the
inspire 2
, especially on a boat over the water...
Well, I have downloaded many of sample files from the Mavic 3 Cine ProRes 422 HQ and from what I see, its no where comparable to the X5S ProRes 422 HQ. I pretty much only shoot in 2704 x 1520 | 50p on the X5S and comparing that to Mavic 3 Cine ProRes 422 HQ 4k or 5k the X5S looks so much better than the Mavic 3. When I compare the two, it makes the Mavic 3 - 422 HQ files look like h.264.
How is this possible when they both are shooting in ProRes 422 HQ, wouldn't you think the two images would look comparable? Its like the Mavic 3 is a fake ProRes 422 HQ.. The X5S bitrate is 900Mbps and the Mavic 3 Cine is 3,772 Mbps so whats going on here?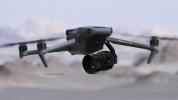 Last edited: