Hey doods!
So I get this notification from DJI in my inbox:

Anybody who knows me knows that I share NOTHING with DJI. When I fly, before I fly and after I fly, I share zero data with DJI. All my birds are hacked for this very purpose. So this really raised a flag. Do I have a leak???
So I click on the "Report" link, login to DJI and watch their little graphic "calculate" my flight time. It came up with this: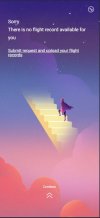 Yeah....that's what I thought.
D
Last edited: