Hi, I am selling my X5 along with Osmo Pro Kit for any time you may need B-Roll of any type and to make the package complete for an Inspire owner, an X5 Gimbal Mounting Bracket and leg extensions. I want to be sure to disclose that the front mount part of the gimbal mounting plate is 3d printed using plastic/carbon fiber blend. It works perfectly. I had bought some spare parts for the Inspire . The X5 plate was part of the package and had a broken front gimbal mount. I used this mount and camera on one of my Inspire 1 V1 drones. In case you are unaware, the camera is totally plug and play. After you have installed the gimbal mounting plate and attach the camera, when you power everything up, DJI Go will recognize the drone as an Inspire 1 Pro. I never changed any firmware or app versions to use this set up. As far as carrying the camera with the V1, it was no problem at all. The only time that the drone struggled was if the wind was up around 12+ mph a sideways movement was difficult for the drone. This was only a minor problem for me one time because pretty much all of my flight is very low speed. I have had the DJI 15mm, a 25 mm, 45mm, 14-42mm and a 35-100mm mounted and they all work exactly as expected based on everything you will read on these forums regarding experiences with the lenses. It is a great arsenal. You can see that I have the balancing parts on the camera. I will leave those on and include a side and rear weight holder. I am including a pic with those on the camera. The only lens that I never had to balance was the 45mm. It was just perfect with a UV filter and hood on it.
I am including:
Osmo Pro- Handle × 1
Zenmuse X5 × 1
Osmo Focus Wheel 1 x 1
Balancing weight parts 1 side, 1 rear.
DJI 15mm Lens x 1
DJI X5 Mounting Gimbal Plate x 1
DJI Inspire 1 Leg Extenders x 4
Osmo Accessory Arm x 1
Osmo - X5 Adapter × 1
Osmo Pro - Carrying Case × 1
Osmo - Universal Mount × 1
Osmo - Phone Holder × 1
Flexi Microphone × 1
Osmo - External Battery Extender × 1
Osmo - Intelligent Battery (High Capacity) × 4
Osmo - Quad Charging System (Adapter Excluded) × 1
I am shipping from Regina, Saskatchewan S4S4A5. If you have questions, feel free to post in this thread but lets keep any negotiations as private messages. Thanks.
I do need a base station if anyone has one to make a part of a deal. I also want a nice Ipad so would be willing to look at a deal that would include something like that.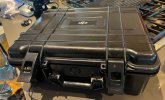 Last edited: