Hello, I have a question and a request for help as in the subject. Zenmuse X5 camera with a Panasonic 35-100mm lens, autofocus works and everything is fine in the drone.
The big problem started in Lightroom. This is what RAW photos captured by Litchi in Lightroom look like.

However, photos taken with the original DJI GO do not open in Lightroom at all: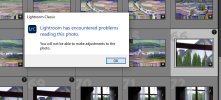 I was able to open this strange RAW in the free RawTherapy program, but it is terrible to use.
Did you have such problems with this lens too?
I'm starting to hate DJI it seems it's the latest firmware again ...
Roger