It's listed on eBay and and Facebook but would much rather sell to someone here, if anyone is looking: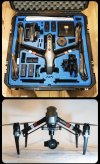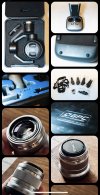 DJI
Inspire 2
Zenmuse X5S, GPC Hard Case, ProRes, 240GB SSD, 4 Batteries, 45mm Lens, 15mm Lens, Thunderbolt 3SSD Card Reader, 8x Carbon Fiber Folding Props, with Extras!
This was lightly used for 4-5 specific jobs by professional FAA Licensed Pilot!
Never crashed, little signs of use, VERY CLEAN!
UPDATED LISTING to throw in 45mm lens and knock $200 off original listing price to expedite the selling process as I gear up for another purchase. Also listed on FB and will take down if it sells there first.
Priced to sell at $3800. MANY KITS WITH MUCH LESS SELL FOR $3500 REGULARLY. Just have a look around and look at recently sold items. Price, therefore, is FIRM, and includes over $8,500 worth of kit in excellent shape.
Sample Video Clips I shot with 45mm and 15mm lenses included below:
Kit Includes:
1x DJI
Inspire 2
5.2K Cinema Drone
1x DJI X5S Camera Sensor (Micro 4/3 aka MFT) / Gimbal
1x DJI 15mm f/1.7 Lens (30mm equivalent)
1x Olympus M.Zuiko 45mm f/1.8mm Lens (90mm equivalent, amazing parallax, supported lens)
1x DJI Controller (Authentic GL6D10A)
4x DJI Intelligent Batteries (Authentic TB50)
1x DJI Charging System (Charges 4x Batteries at a time, in pairs)
1x DJI 240GB
CineSSD
(Required for ProRes recording, expensive and hard to find)
1x SanDisk 128GB MicroSD (also required for any kind of recording)
1x DJI Thunderbolt 3
CineSSD
Station card reader (Expensive and very hard to find, very fast data transfer)
ProRes 4K Recording Activated (ProRes 422, HQ, 4444 XQ, more)
Cinema DNG 5.2K Raw Capable
ND filters including Variable ND
8x CopterMax Carbon Fiber Folding Props (2x Sets of 4, Expensive, Major Upgrade to Props and Portability)
1x DJI Flight Harness
1x GPC Hard Travel Case
Notes:
ProRes 4444 XQ Recording option is installed - also has ability to shoot Cinema DNG 5.2K RAW recording with paid upgrade from DJI (not installed).
You can record .h264 / .h265 10bit to MicroSD cards. Photos record to the Micro SD cards.