Hi everyone, I want to buy a mast for the DLS2 light sensor for my Micasense Rededge MX to mount on an M210. I have been using a GoPro mount and it is decent. I am just not crazy about counting on the 3m to hold this expensive light sensor in place. I also dread the consequence of it falling off and potentially spending time with the props. So if you have a mast, I am interested. Even better if someone has a 3d model, I would even pay for that.
I do have a light sensor mount for and
Inspire 2
. They mount above the nose of the AC. It is slightly too wide for my inspire 1's. If someone needs one of these, you can have it for $25. Maybe an Extra $5 for shipping regular mail. It was mounted and used only a couple times. I am not sure what they sell for in the USA but Measure.ca charges exactly $200 CAD.
Finally, I made some spare cables for the light sensor. It was a bit of a pain finding the connectors and now I have spares. If someone needs a couple, give me postage and I will send a couple to you.

I can send you the double ended cable. Let me know the 28g length and I will send you that as well.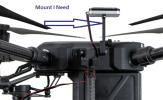 This is the style I would like however I would look at other options if you have something clever.

I have this mount and that is what I am selling in this thread.
Last edited: